Midlake Condominium Association Community Rules and Regulations
COMMON AREAS
Homeowners are responsible for their guest occupants and must adhere to all MCA rules.
The tenancy limits for each unit are as follows: first and second floor units 6 person maximum, third floor units 8person maximum as per MCA Bylaws.
Quiet hours must be observed between 11:00PM to 8:00AM. Any form of fireworks are prohibited.
Common hallways are to be kept clear at all times of personal property with the exception of unit door mats and unit door decorations.(No carriages, bikes, skis, boxes etc.)Access doors must remain closed per local ordinance.
It is forbidden to compromise the integrity of any building by piercing the exterior stucco.
Signs or advertising of any kind is strictly forbidden as per MCA bylaws.
Cutting common ground vegetation is forbidden.
Trash must be placed in trash receptacles in the parking lot. Please find an empty trash can if the one across from your building is full. Do not leave trash on the side or top of dumpsters.
Used tobacco products must be discarded in designated receptacles.
Only homeowner and family member pets are permitted in the units. Non- owner pets are prohibited. Pets must be leashed as per Kidder Township ordinance. Pet droppings must be picked up and disposed in trash containers.
Feeding of wildlife is prohibited. Bird feeders are prohibited.
Observe all no parking zones; cars illegally parked will be removed.
Trailers, campers, boats and other large recreational vehicles are not permitted on Midlake property.
Parking lot activities are prohibited.
Bicycles are to be kept on the bicycle racks located in the parking lot.
Patios and balconies should be clear of empty flower pots, buckets, rusted or broken items, trash cans, trash, broken and non-patio furniture, etc.
*The Midlake Board reserves the right to limit unsightly or unkept items on common or limited common areas"
SUMMER RULES
Charcoal grills are strictly prohibited.
Hanging wet towels and clothing over balcony railings is prohibited.
Pool passes are necessary to enter the pool complex and are not transferrable to non MCA unit owners. All guests must have a pass and are limited to the unit capacity.
Children under 12 years old must be adult supervised and are not permitted in the hot tub.
Kayaks and other watercraft may not be stored on Midlake property.
Use of tobacco products within pool complex is prohibited.
Pool complex hours will be enforced. After hour entrance to the pool will be considered trespassing. Security and/or local police will be notified.
WINTER RULES
Fireplace safety: Flues should be closed and ashes disposed of ONLY when embers are cooled.
Firewood may not be stored on balconies or patios.
Wood is for homeowners and their guests. Locks are changed seasonally for access to the sheds.
MCA INFRACTION POLICY
Midlake on Big Boulder Community has identified levels of infractions for breaching the MCA rules and regulations.
All homeowners are encouraged to display the MCA Rules in their unit and remind guests they will be held accountable to adhering to the community rules.
Any homeowner renting their unit is urged to have the rules document on display in their unit. If not visible, renters may claim they were not aware of such infractions.
The protocol for insuring a pleasant visit to Midlake is as follows:
If occupants violate MCA policies and rules, security will be notified of the issue.
Security will write a formal violation and submit it to the occupant & FirstService Residential office.
FirstService Residential office will issue the violation letter to the homeowner and directly call the homeowner to inform them that an infraction has taken place.
Based on the level of infraction a fine may be levied against the homeowner.
The nature of the violation is reflected on the infraction fee schedule.
The infraction schedule of fines will reset annually beginning July 1 of each fiscal year. Incidents are cumulative for a one year period ending June 30 of each year. *Rules and Regulations Fine Schedule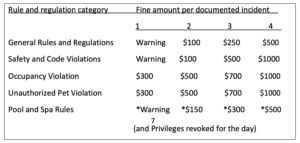 Homeowners – must display in your rental property
Please CALL 911 or 570-722-0108 to report any Violations
FINES ARE $100.00 and will be strictly ENFORCED
Pennsylvania Title 72 Section 9404 – Use of Consumer Fireworks
– A person may not intentionally ignite or discharge:
Consumer fireworks on public or private property without the express permission of the owner.
Consumer fireworks or sparkling devices within, or throw consumer fireworks or sparkling devices from, a motor vehicle or building.
Consumer fireworks or sparkling devices while the person is under the influence of alcohol, a controlled substance or another drug.
Consumer fireworks within 150 feet of an occupied/unoccupied structure.
ILLEGAL IN KIDDER TOWNSHIP "Display fireworks." Large fireworks to be used solely by professional pyro technicians. The term includes, but is not limited to: 
(1) Salutes that contain more than two grains or 130 milligrams of explosive materials; 
(2) Aerial shells containing more than 60 grams of pyrotechnic compositions 
Township Ordinance
§ 121-5 Loud, disturbing and unnecessary noises enumerated. 
The following acts are declared to be loud, disturbing, and unnecessary noises in violation of this chapter, but said enumeration shall not be deemed to be exclusive, namely: 
B. Radios in such manner as to disturb the peace, between the hours of 11:00 p.m. and 7:00 a.m., in such a manner as to be plainly audible at a distance of 50 feet from the building, structure or vehicle in which it is located shall be prima facie evidence of a violation of this section. 
D. Yelling, shouting, or singing on the public or private streets, particularly between the hours of 11:00 p.m. and 7:00 a.m. or any time or place as to annoy or disturb the quiet. 
§ 121-6 Violations and penalties. 
Any person who violates or permits a violation of this chapter shall be guilty of a summary offense and pay a fine of not more than $1,000, plus costs of prosecution.